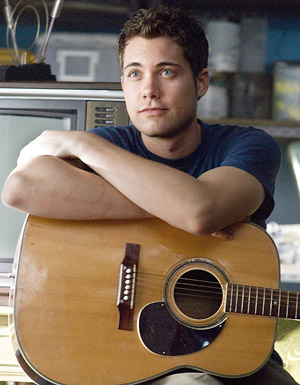 Joey Parker is one of the main characters of the movie Another Cinderella Story. He is the Prince Charming in the movie. Was and still is a world-wide pop sensation and is widely known for his music and dancing. Because of his good looks and amazing performances, he is very popular with the girls. But that doesn't get to his head, as he is also a very down-to-earth guy. Although, he is famous for having an attitude and being a bit confident while performing. Joey is totally kissable!!!!!!!
Joey Parker is portrayed by Drew Seeley.
Appearance
Edit
He is very attractive, which is shown by the screaming and swooning girls in the movie. Because of this, Joey gets a lot of attention and second glances from girls, such as; Natalia Faroush, Bree Blatt and Britt Blatt along with more characters. When he first met Mary Santiago, she seemed humbled by his apperance and a bit dazed. The same reaction is recieved by other characters. If it is from being star-struck, or by simply being pleasantly surprised by his appearance is unknown.
He has bright blue eyes, brown hair and is fairly build. By all the dancing, he has gotten a well built body and can be considered as very athletic. His eyes can be considered one of his most attractive features, as they are often stared into.
Personality
Edit
Joey is an ambitious, loyal, confident and out-spoken character. He is not afraid to tell people what he feels in his lyrics. A good example is Just That Girl where the song begins with 'sometimes it feels like everybody wants something from me' and can be related from the scene where his mom is pushing him to sing a duet with Dominique Blatt but he himself is not up for it.
His ambitiousness is proven as he never stops trying to find his mystery girl, and even his loyalty as he never gives in to Natalia, his ex-girlfriend's flirting and attempt at seducing him. He stays faithful to Mary even when Natalia finds a way to set him up and break in to his room.
He has a bad habit of becoming extremely impatient with people. Like at dinner with Dominique his parents keep nagging him about doing the duet with Dominique, he eventually snaps and says 'this is why I didn't want to come today; you're all nuts!' and remains unfriendly the rest of the dinner.
This behaviour is also shown when he meets Mary at the parking lot, and she is about to tell him that she is the mystery girl. He never gives her the chance to tell him, he instead becomes impatient and quickly assumes Dominique has sent her. He blows her off, and later regrets his behaviour.
Relationships
Edit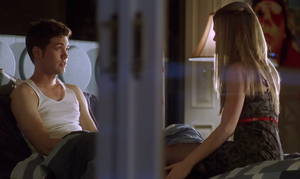 Natalia Faroush
Edit
'We kissed and hugged and danced and singed, but it's over i want the divorce.'
Joey and Natalia were dating for a short while when he was in Beverly Hills. When he leaves to tour in Japan, he never calls back and hopes that she gets the hint. However, she doesn't. When he comes back a year later for the dancing competition, she greets him with a kiss. Everyone else seems to know that they are no longer a thing. Britt points it out in the dancing rehearsal, and Natalia replies with telling her that she and Joey will be together again before the Black and White ball.
This does not go as planned, because he then meets his mystery girl, Mary. Natalia recognizes Joey instantly when he dances with his mystery girl, but acknowledge Mary as 'the tramp.' She tries to sabotage their relationship by setting up Mary to think that Joey is cheating. Her plan is to talk to him and pretend like they were together but that could not happen, and Joey ends up with Mary.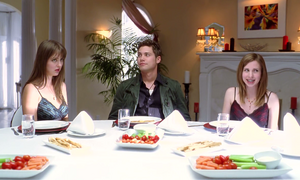 Bree and Britt Blatt
Edit
'I... love him!'
The sisters were both huge fans of Joey, so they both fought over Joey's attention the minute he arrived. They helped Natalia with the scheming and sabotaging of the relationship of Mary and Joey. They both somehow thought they had a shot at making him believe that they were his mystery girl. Britt went so far as going in to Mary's room and stealing the answers for the 4 most listened songs on her playlist.
Soon, even Bree knew the answers and they both tried to convince Joey that they were his mystery girl. He didn't believe them, and of course, that's that.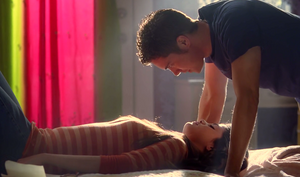 Mary Santiago
Edit
'And no matter what they do, we're meant to be together.'
Mary and Joey first met when they accidently bumped in to each other. They both stopped for a moment and stared at each other, clearly showing a bit of interest. Natalia gives him a kiss and she pulls him away. After that, they meet in a few occasions until the Black and White ball. They both go with masks on, being anonymous. Mary, however, wears a beautiful red dress; causing all the eyes to be on her. Joey, being in awe, finally takes courage to talk to her and ask her to dance. They both dance with no language barrier, until Mary falls because of her step-sisters work. Joey tells her that she was amazing, and reveals himself. Mary doesn't have time to respond as the clock shows her that Dominique will soon arrive home. She runs along, dropping her MP3.
Joey then picks it up and uses it to find her. He announces his search in the school speakers, and gets hundreds of girls trying to guess the 4 most listened songs in the playlist and convince him that they're his mystery girl. After a lot of searching, Mary and Joey find their way to each other. They start off as good friends, best friends and at the end, a couple. Although, not with out the sabotage of Mary's step-sisters and Natalia.
They are still together In the movie.